ABOUT US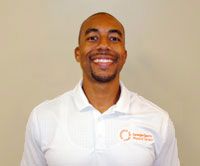 Dr. Lamar Frasier, DPT, CSCS, CKTP, CPT, Owner
Dr. Lamar Frasier is the owner of Georgia Sports Physical Therapy. He is a physical therapist who specializes in the treatment of sports medicine and orthopedic related injuries. He treats individuals of all skill and age levels, with an emphasis on accurate identification of the cause of each condition. The mission of Georgia Sports Physical Therapy is to provide exceptional, individualized outpatient rehabilitation that is injury specific and tailored to each patients' needs. Dr. Frasier opened the practice with the vision of assuring customized and uninterrupted treatment sessions.
Dr. Frasier earned his Bachelor of Science degree from the University of Maryland, College Park in College Park, MD in 2004. He then attended Marymount University for three years to obtain his Doctor of Physical Therapy degree, where he held the position of class president. Dr. Frasier has been practicing since graduating from physical therapy school in 2007, with all treatment time spent in outpatient orthopedic and sports medicine settings. He has been fortunate enough to work with individuals of all skill levels, including professional football, softball, and basketball athletes. Previous employment has afforded Dr. Frasier the opportunity to serve as Clinic Manager and work nationally recognized events, such as the Boston Marathon. He has acquired multiple continuing education accolades to enhance his understanding of the health and wellness field. Dr. Frasier is currently certified as a certified strength and conditioning specialist, kinesiotaping practitioner, personal trainer, and clinical instructor.
Dr. Frasier also maintains memberships with several professional organizations, such as the American Physical Therapy Association and National Strength and Conditioning Association, to remain current within the health and wellness profession. He currently resides in Marietta, GA with his wife, Emily, and three children, Kayla, Jalen and Blake. When he is not working, Dr. Frasier enjoys playing basketball, weightlifting, traveling and spending time with his family.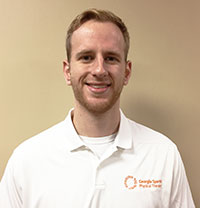 Dr. Phillip Wyatt, DPT, CSCS
Dr. Wyatt is a physical therapist at Georgia Sports Physical Therapy. He specializes in the management of orthopedic and sports related injuries. His clinical interests are broad and include working with athletes of all kinds, rehabilitating patients after orthopedic surgery, and helping promote an active healthy lifestyle with his patients.
Dr. Wyatt grew up near Mobile, Alabama. He holds a bachelor's of science degree in Exercise Science from the University of South Alabama in Mobile, AL. During his time as an undergraduate student, he also played football and found a passion for optimizing athletic performance, movement, and health habits. In May of 2018, he graduated from the Doctor of Physical Therapy program at the University of South Alabama. During his time as a physical therapy student, he became a certified strength and conditioning specialist (CSCS) in order to better help him be able to incorporate strength and conditioning principles into the treatment of his patients.
Dr. Wyatt is a former competitive junior tennis player and collegiate offensive lineman and he often draws on his experience as an athlete when designing treatment plans for his patients. In his free time, he enjoys traveling, exercising, playing tennis, playing guitar, and being outside with his dog, Rocky.